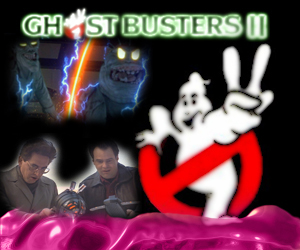 Welcome to the Ghostbusters 2 part of The Grid! Here is where we talk about the second Ghostbusters movie ( some people call this the biggest flop in the franchise, but don't believe everything people say and write). The following is a synopses taken from Ghostbusters 2 10th anniversary edition (that's what I call it).
Bill Murray, Dan Aykroyd, and Harold Ramis take up their proton packs once more to battle the forces of evil in Manhattan!
After waging a war on slime that cost New York City millions, the Ghostbusters find themselves out of business--until an ancient tyrant, preparing a return to earthly domain through his portrait at the Manhattan Museum of Modern Art set's his sights on Dana Barrett's baby as the new home of his wicked soul! With the help of the Museum's possessed curator, he plans to turn New York into a really scary place to live!
Now only the Ghostbusters can save New York City, by turning paranormal pest control into an art form!
Directed by: Ivan Reitman
Produced by: Ivan Reitman
Written by: Dan Aykroyd and Harold Ramis
Cast
Dr. Peter Venkman .......... Bill Murray
Dr. Ray Stantz .......... Dan Aykroyd
Dr. Egon Spengler .......... Harold Ramis
Dana Barrett .......... Sigourney Weaver
Louis Tulley .......... Rick Moranis
Janien Melnitz .......... Annie Potts
Winston Zeddmore .......... Ernie Hudson