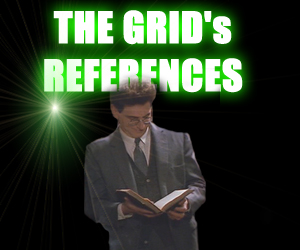 If you have a site and you would like it on the reference page just e-mail The Grid and well put it on for you.
Ghostbusters.net- The "New Kid On The Block" so to speak (I couldn't help myself for that one.). It has everything that the once Ghostbusters Central had (see below), and some more surprises just bursting at the seams to be looked at.
Ghostbusters Central- one of the best GB sites out there. Contains info on all the GB movies and TV shows. It also has real audio episodes of RGB, prop section, GB chat rooms, Ghostbusters auction where you can sell or buy anything GB, and is the home for The Ghostbusters Message Board. GB Central is also the home of the now famous RGB Wassap!
Note: As of this moment Ghostbusters Central no longer exists, but Chad Paulson the webmaster has now created a new site to replace it Ghostbusters.net (see link above). Also the link for GB Central will stay, because it is also another url for GB.net
Ghostbusters HQ- Contains some GB multimedia, and also houses the documentary film Busting Makes Me Feel Good, and the student film Ghostbusters Inner Demons.
The Ghostbusters Homepage- The first the original Ghostbusters site on the net. Although the site is no longer updated by webmaster Bill Emkow it houses lots of great info. about Ghostbusters. Check out this place for all you new Ghostheads to the business.
Rays Occult- Webmaster Tim Mullender has definitely molded this baby into one of the best GB sites I've seen in the world of GB. This is the only place on the web that I've seen that has cataloged all news ever about GB3 and the only place where you can download the GB music video entitled Ghostbusters by Ray Parker Jr.

- Brand new site just created by my friend The Bronx Ghostbuster. It looks to be a very promising site.
Proton Charging- This has all the latest news concerning Ghostbusters. Its the only way to stay up to date with things that are happening in the world of Ghostbusters.
The Ghostbusters Message Board- The only place where you can talk to other Ghostheads, ask questions about the props from the movies, or just to talk about anything GB related.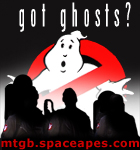 - This is one of the most interesting designs for a site that I've seen in a while. MTGB has definitely poured there heart and soul into there site. It's the only place to find a training demo of busting a ghost through the Ecto goggles. They also take applications for people who would like to become part of the team.
The Ghostbusters Prop Archive- The only place to find Ectomans 75 pictures of the proton pack worn by Dan Aykroyd in GB 1. Plus more plans and pics. than The Grid's prop area has.
Ecto-135- A new site just created by Back from the GBMB. It has tons of pics. of the GB's retro-fitted ambulance the Ecto! This site looks to have a lot of potential, and could become even bigger and popular as the years go on.
crossthestreams.com- A new site built by the Manalapan Ghostbusters. This site is also very young and looks to have lots of potential. Be sure to a close eye on this on to ghostheads.
we-got-one.com- A new site created by Dan Ectodude Shannon. This is that only place that I know of that has made a almost perfect replication of the Ecto's siren. This is another site that I think has much potential, and should be watched closely.
Ghostbusters Online- This site is not be confused with Ghostbusting online. It was just recently created by Run DMC from the GBMB. If you've been looking for some good wholesome GB humor, than you've found it! Expect more from this site, than just standard GB stuff that the others cover. I personally think that Ghostbusters Online well defintly go high in the internet comedy charts.

This brand new site by The Bronx Ghostbuster combines Ghostbusters and Irish heritage into one cool site! There's also d/l's of all the Gb games for all the platform systems and emualtors. So check this baby out.
Ghostbusters World- A brand new site with many pictures and other cool stuff.
Proton Industries- A very cool site with new and info. Its also the home of the Southern Michigan Ghostbusters.
Ghostbusters Realm- A brand new site that includes Ghostheads United and much, much more.
The Nexus- A site totally made out of fan made things. Read song parodies, adopt a Ghost, etc.
Ghostbusters '86- A site devoted to RGB and Peter Venkman. Plus lots of cool pictures.
Ecto-Net- A site not directly realted to GB, but has lots of cool things Ghostbusters and other things.
River of Slime- A new site created by Hacksaw. That is completely about Ghostbusters II.
The Captains Chair- It's The Grid very own message board! So check it out.
ASAP Prop Message Board- Another great message board where you can get help on your ghostbusters props, and other movie props.
The Bowels of the Firehouse- A new site created by jesusfreak. It has a lot of cool things and shows lots of potential.
Sharkmaneddies's Ghostbusters Station- A really cool site with lots of interesting graphics, and fresh new setup to make it stand out from the rest.
- A great new site by JesusFreak. If you love Ghostbusters II, you'll love this site dedicated to that movie.

- A great new franchise based out in the Midwest. Another great edition to the awesome Ghostbusters Franchise site community.